Introduction
The foundations are critical to the design of a structure. The foundation design has to cover a range of loading conditions:
Self Weight
Environmental
Accidental loads
Operational loads

Pipeline expansion
Dynamic riser load
The foundation design is usually one of 2 types 'pile' or 'gravity based'.
Gravity based foundtaions generally considers 3 possible modes of failure:
Soil Bearing Pressure
Structure Sliding
Structure Overturning
Pile based foundations generally consider the following modes of failure:
Bearing Capacity
Pull-Out
Notable Projects
Project Name

Project Number

Notes

Wage Paladin

KW 694

CATS Tee Tie-In Structure

West DON & DON South West

KW 1009

Riser Base Structure
Gravity Based Foundation, Multiple Headers

Subsea Distribution Unit Protection Strucutre
Pile Foundations, 'Fishing Friendly' design

SSIV Protection Structure
Gravity Based Foundation
Codes & Standards
| | | |
| --- | --- | --- |
| Company | Title | Doc Number / Date |
| API | | API-RP-2A |
| | | |
| | | |
Books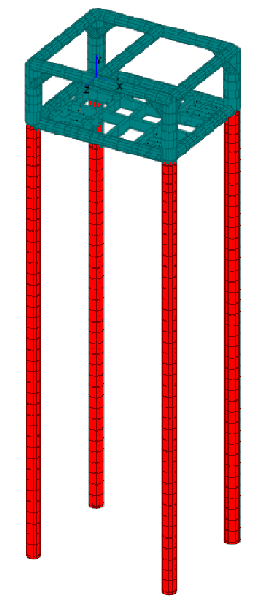 The calculations for the foundation capacity checks are a function of the loading, foundation size and soil parameters.
Skirts on gravity based foundations can be utilised to provide greater sliding resistance. The skirts penetrate into the soils and provide greater resistance to sliding. However, sometimes the full penetration of the skirts into the soils cannot be guaranteed.
The presence of a structure on the seabed affects the local flow of water in the vacinity. This results in a possibility of 'scour' occurring. For foundation design, 'scour' is considered as the movement of soils from the area where it is providing foundation support. Scour may be addressed by the use of a 'rip-rap', which acts as a cover for the soils, restricting the movement of soils in the area of foundations.