Introduction
'Operational conditions (pressure and temperature) will cause expansion of the pipelines to occur. This expansion at the ends of the pipelines needs to be absorbed somehow. Usually this is accomplished with expansion spools.
The expansion spool accomodates the expansion with a 'dog-leg' with bending. The angle of the 'dog-leg' is usually 90°, and the length is designed to suit the anticipated expansions.
The design of spools is initially done by hand calculations to approximate the required size. Final design is done using finite element analysis. The finite element method allows inclusion of the required effects such as soil friction.
The axial expansion will deform the expansion spool and the associated bending will induce a lateral offset of the axis of the pipeline near the bend. Both the axial and lateral displacements should be considered when sevearl spools are in close proximity.
As bending moments are generated by the expansion, care should be taken over the positioning of flanges during design.
Short spools between structures are called 'jumpers', and are orientated horizontally or vertically.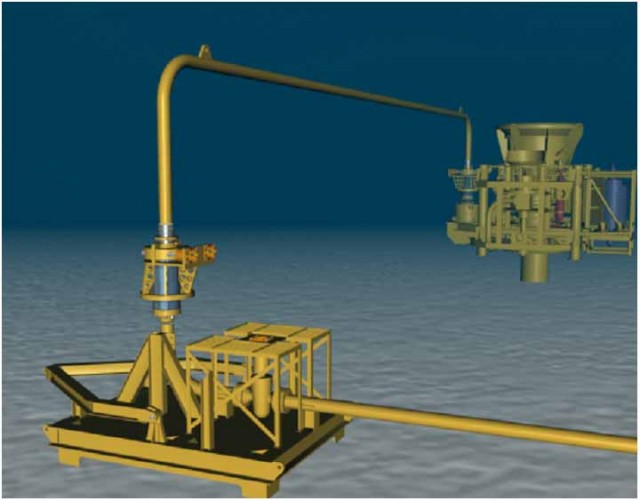 Notable Projects
Project Name

Project Number

Notes

BAOBAB

Notable due to the Pipe in Pipe nature

Greater Plutonio

Deep Water, using SAFEBUCK

Qatar Gas

KW

Large Diameter Pipe
Shallow Water
Snake Lay Solution
Other Projects
| | | |
| --- | --- | --- |
| | Project Number | Notes |
| EPC2B | KW 0728 | Controlled Buckles on Existing Pipeline Crossings |
| Algeria Pipeline | KW 1071 | Onshore |
| Deep Panuke | | |
Codes & Standards
Company

Title

Doc Number / Date

SAFEBUCK JIP

Safe Design of Pipelines with Lateral Buckling - Design Guideline

DNV

Global Buckling of Submarine Pipelines

DNV-RP-F110

DNV

Submarine Pipeline Systems
(Strain Based Limit State)

DNV-OS-F101
Course Notes
Author

Title

Notes

C. Sicilia

Lateral Buckling Assessment and Mitigation Design

Trevor Gee
IBC


Pipeline Course
Books
| | | |
| --- | --- | --- |
| Author | Title | Chapter |
| Mikael Braestrup | Design and Installation of Marine Pipelines | 6.5 |
| | | |
Papers
| | | |
| --- | --- | --- |
| Author | Title | Notes |
| Hobbes, R. E. | In-service Buckling of Heated Pipelines, Journal of transportation Engineering, ASCE, Vol. 110, No.2, March 1984, pp. 175-189 | Approximate method for determining propensity for lateral buckling |
| Taylor, N. and Gan, A. B | Submarine pipeline Buckling – Imperfection Studies, Jour. Of Thin-walled Structures, Vol. 4, 1986, pp 295-323 | A developed version of 'Hobbs', including the effects of initial OOS |
| | | |
| | | |
Prepared Calculations
| | | |
| --- | --- | --- |
| Title / Software | Description | Owner / Athor |
| Hobbs / Excel | Predicts the onset of buckling | KAJW / CSG |
| | | |