Introduction
The nature of pipe in pipe systems means that at the flanges 'bulkheads' are required to join the two pipes into a single pipe.
The load capacity of the bulkhead should be checked for installation and operational loads. The strength capacity is confirmed using non linear finite element analysis.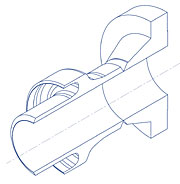 The pipe in pipe systems are often operating at elevated temperatures on the inner pipe surface and at ambient temperatures ont eh external surface of the outer pipe. Thus a thermal analysis is often carried out prior to the stress analysis to determine the required temperature de-reating required.
The design code used primarily during the design is BS:EN 13445-3 'Design by Analysis'