Introduction
The software has a particularly friendly interactive graphical user interface, making it noticeable easy to understand and operate despite its extensive capabilities, with the actual model proportions appearing on screen once they are created. It also has the capability of modelling and simulation in the traditional wireframe/isometric mode or the advanced shaded/perspective mode, which can provide good visualization of the behaviour of the system.
Orcaflex is a software package, developed by Orcina Inc., which is widely used for the design and analysis of marine systems, including all types of:
Riser systems: SCRs, TTRs, hybrids, flexibles, umbilicals, hoses.
Mooring systems: spread, turret, SPM, jetty, etc.
Installation planning with capabilities across the full range of scenarios.
Towed systems: bundle dynamics, seismic arrays, towed bodies, etc.
Defence, marine renewables, seabed stability and many other types of system.
Orcaflex is typically used for the modelling and analysis of Umbilical Installation, Jumpers Installation, J-Tube pulling, SUTU analysis, Bend restrictors/strain relievers.
Simulation includes the full analyses of statics and dynamics of the modelled systems, with the options of text output for external analyses or built-in post-processing to graphical output.
Courses & Notes
| | | |
| --- | --- | --- |
| Author | Title | Notes |
| KW Ltd | Orcaflex Software Guidelines | L:\KWiki\Software\Orcaflex |
Books
| | | |
| --- | --- | --- |
| Author | Title | Located |
| Orcina | Manual | http://www.orcina.com |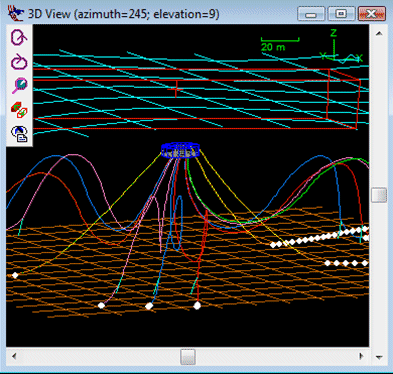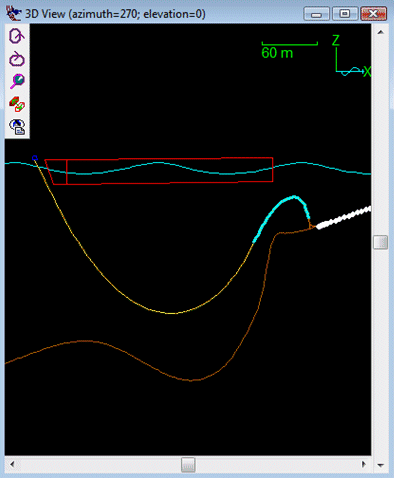 Analysis Capabilities
Full 3D modelling.
Complete and partial quasi-static analysis.
Static Analysis.
Time domain dynamic analysis with ramp-up.
Non-linear large displacement analysis, including line compression and snatch loads.
Modal analysis.
Contact, clashing and clearance analyses.
Fatigue analysis (regular, rainflow and spectral).
Fully coupled tension, bending and torsion.
Vessel manoeuvres (forward speed and turn rate).
Surface piercing fully modelled.
Orcaflex