Introduction
'Pipeline Protection' covers the mechanical possibility of damage to the pipeline. Pipelines can be damaged by several methods:
Dropped Objects impacting the pipeline
Fishing Gear Interaction
Mooring Lines
Pipeline Crossings
Methods of Protecting the pipelines can consist of:
Trenching

This is often used for stability purposes. However, it also positions the pipeline below the seabed level, to remove the possibility of trawler fishing interaction.

Burial

Burial of a pipeline is a secondary operation after trenching. It uses the excavated amterial to cover the pipeline once it has been placed in the trench.

Rock Dump

Rock dump over a pipeline provides stability and significant protection from both fishing and dropped ojects.

Mattresses

Mattress cover over the pipeline protects from fishing interaction and dropped objects to a limited extent.

Exclusion Zones
A combination of these methods may be used to provide the required protection.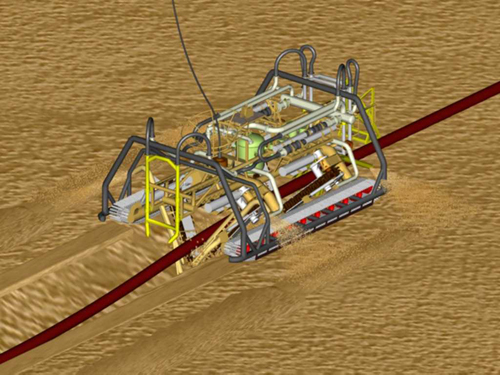 Notable Projects
Project Name

Project Number

Notes

BAOBAB

Notable due to the Pipe in Pipe nature

Greater Plutonio

Deep Water, using SAFEBUCK

Qatar Gas

KW

Large Diameter Pipe
Shallow Water
Snake Lay Solution
Other Projects
| | | |
| --- | --- | --- |
| | Project Number | Notes |
| EPC2B | KW 0728 | Controlled Buckles on Existing Pipeline Crossings |
| Algeria Pipeline | KW 1071 | Onshore |
| Deep Panuke | | |
Codes & Standards
Company

Title

Doc Number / Date

SAFEBUCK JIP

Safe Design of Pipelines with Lateral Buckling - Design Guideline

DNV

Global Buckling of Submarine Pipelines

DNV-RP-F110

DNV

Submarine Pipeline Systems
(Strain Based Limit State)

DNV-OS-F101
Course Notes
Author

Title

Notes

C. Sicilia

Lateral Buckling Assessment and Mitigation Design

Trevor Gee
IBC


Pipeline Course
Books
| | | |
| --- | --- | --- |
| Author | Title | Chapter |
| Mikael Braestrup | Design and Installation of Marine Pipelines | 6.5 |
| | | |
Papers
| | | |
| --- | --- | --- |
| Author | Title | Notes |
| Hobbes, R. E. | In-service Buckling of Heated Pipelines, Journal of transportation Engineering, ASCE, Vol. 110, No.2, March 1984, pp. 175-189 | Approximate method for determining propensity for lateral buckling |
| Taylor, N. and Gan, A. B | Submarine pipeline Buckling – Imperfection Studies, Jour. Of Thin-walled Structures, Vol. 4, 1986, pp 295-323 | A developed version of 'Hobbs', including the effects of initial OOS |
| | | |
| | | |
Prepared Calculations
| | | |
| --- | --- | --- |
| Title / Software | Description | Owner / Athor |
| Hobbs / Excel | Predicts the onset of buckling | KAJW / CSG |
| | | |